In Malawi, Prince's family sees hope
Patient Stories
Posted 8/6/2015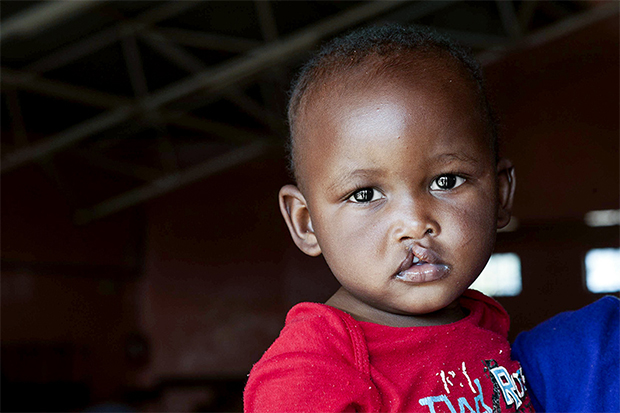 Felista did everything she thought she should do during her pregnancy, including receiving full pre-natal care. She and her  husband, Steve, already have a healthy child, so they didn't think anything could possibly go wrong with the birth of their second son, Prince. 
But when Prince was born with a cleft lip, Felista and Steve felt helpless. They were heartbroken when they saw their son for the first time. "How could this happen? What did I do wrong?" Felista thought. 
Thankfully, Felista's thoughts didn't last long. As soon as Prince was born, the hospital staff knew how to reassure the family and let them know their son's cleft lip is a birth defect, which is treatable, and an organization called Operation Smile comes to Malawi each year to help babies like Prince. 
To Felista and Steve's immense relief, the hospital staff helped the family register their newborn son with Operation Smile on the day of his birth. The nurses took extra care to teach Felista how to properly nurse Prince to keep him nourished and healthy until the next Operation Smile medical mission. The staff told the family Prince would be a great candidate for surgery if he remains healthy and gains healthy weight. 
Felista said she remembered seeing other young children who were also born with a cleft lip, though she never thought her own son would be born with a facial deformity. She didn't realize surgery was an option until the hospital staff told her. 
Not long after Prince was born, Felista was notified by the same hospital that Operation Smile was scheduled to come to Malawi to the Kamuzu Central Hospital, about a half-hour away. 
On the very first day of the medical mission, Felista and Prince arrived at the hospital with Prince to undergo a medical evaluations, which would determine if Prince is healthy enough for surgery. After the evaluation, Felista anxiously waited to hear if Prince would be scheduled for surgery.
The next morning, Felista learned not only was Prince selected to receive surgery, but his surgery would be the very next day. Later that same afternoon, Felista and Prince along with 26 other patients who were also scheduled for surgery that day arrived at the hospital for admission.
After one more night of waiting, Prince was one of the first patients to enter the operating room and was back in his mother's welcoming arms just a short while later. 
After surgery, Prince was sleeping peacefully in his mother's arms. Felista could not stop gazing at her son's now completely repaired mouth, almost in complete awe. She said she was looking forward to a new life for Prince and her family.